Pivotal Week…
It appears the big money shorts who have been fighting the tape for the past eight months have come together over the long holiday weekend.
Here are some of the headlines that Morgan Stanley, Bloomberg, and Larry Summers are putting forth again today before the opening.
"S&P 500 could drop 26% in months, Morgan Stanley's Wilson says
Bloomberg….
Investors now expect the major central banks to raise rates much more than they were thinking just at the start of this month. They are still underpricing the risk of how much more tightening is to come.
The Fed may raise interest rates as high as 6%, the ECB to 4% and the BOE to possibly 5% should the global economy continue to be resilient and inflation run rife.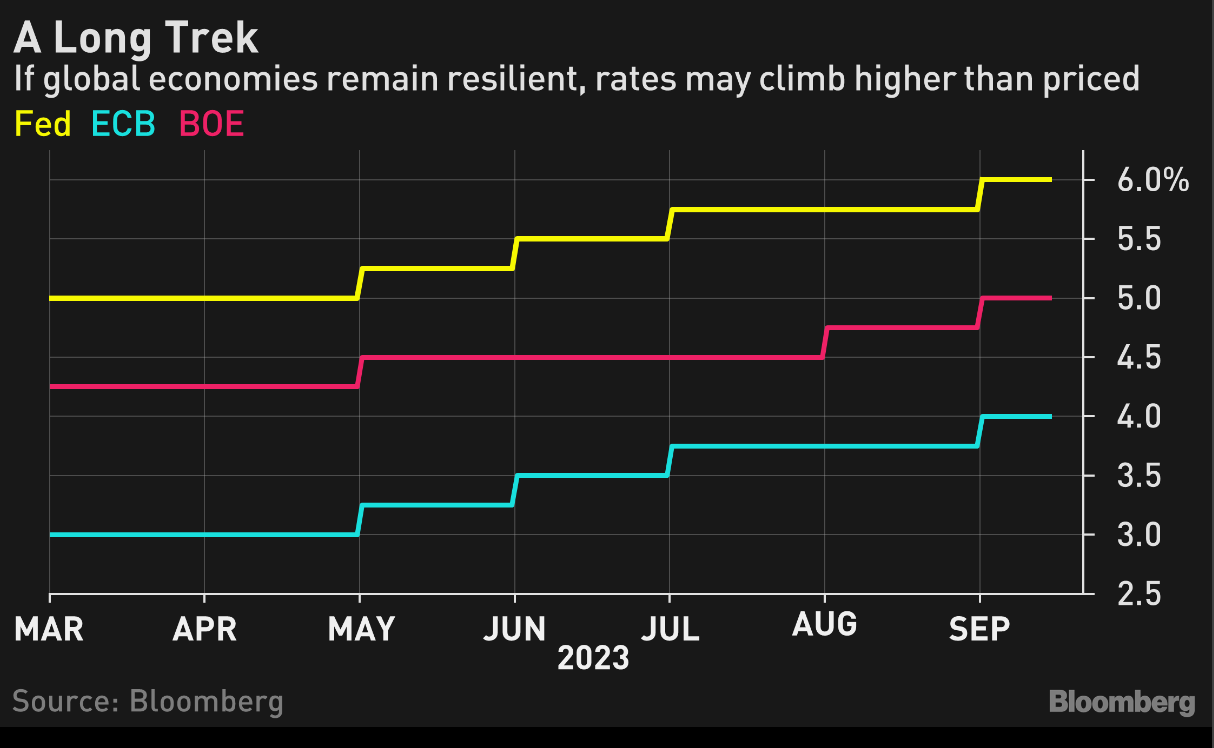 Here's why: the tell-tale three-month/10-year Treasury curve has been in a consistent inversion since November, and typically, recessions have followed between 11 and 14 months. That would suggest that the US economy is unlikely to roll over before October at the earliest — meaning central banks may be raising rates all through the summer as they try to get inflation to converge to their targets.
While traders have re-priced central bank trajectories considerably this month, they are still blasé: the markets currently see a terminal rate just shy of 5.50% in the US, about 3.75% in the euro zone and 4.50% in the UK.
The scenarios projected above are consistent with analysis that showed the Fed has, on average, been able to stop tightening only when its inflation-adjusted policy rate has reached a full 200 basis points. The Fed's current real policy rate is 95 bps — meaning it still has a considerable distance to go.
Recent data in the US have upended expectations of quick disinflation, with consumer prices actually accelerating from a month earlier in January — spurred by the jobless rate sliding to the lowest since 1969 and retail sales rising the most in almost two years. While the Fed has raised rates by a phenomenal 450 bps in the current cycle, headline inflation is still running at 6.4%, more than three times its target.
Recent comments by euro-region policymakers suggest that the ECB may act forcefully. The central bank currently projects inflation to average 6.3% this year, meaning its real policy rate is deeply negative, underscoring why many of its officials reckon the benchmark isn't restrictive yet.
In the UK, recent comments suggest that policymakers are wary of taking interest rates too high, though BOE Governor Andrew Bailey's remarks suggest that the central bank may make peace with a peak rate of 4.50%. Even so, with both headline and retail-price inflation in the UK still running above 10%, a quick decline to 2% is unlikely.
Also, in an environment where the Fed and the ECB keep raising rates, the BOE would find it hard to stop where it would like to in the absence of compelling evidence that inflation is crumbling.
At the start of the year, traders were working on the assumption that inflation is a problem of yesteryear. Now we know that it is still alive and kicking, while the economies are also more resilient than thought.
That means only one thing: a re-calibration of central banks' rate trajectories.
Lots of Pressure early, market interest rates are testing Thursday overnight highs but are falling short so far. I will be watching keenly and post comments as this attack moves forward.
9:45 CST update..
The U.S. economy unexpectedly returned to growth in February after seven months contracting, a sign of resilience even as higher interest rates hit activity, according to data from a purchasing managers survey released Tuesday.
The S&P Global Flash Composite Output Index, which gauges activity in the manufacturing and services sectors, increased to 50.2 in February from 46.8 in January. This is the second monthly improvement in the index, exceeding the 50.0 mark which signals expansion for the first time since June.
"Despite headwinds from higher interest rates and the cost of living squeeze, the business mood has brightened amid signs that inflation has peaked and recession risks have faded," S&P Global Chief Business Economist Chris Williamson said.
Still, the reading points to a marginal expansion which was led by an uptick in the services sector, a rebound that could partly be attributed to unseasonably warm weather, the report said.
The survey showed demand continued to contract in February, albeit at a softer pace. The decrease in service sector customer demand was marginal, but manufacturers reported another sharp downturn in client orders, S&P Global said.
The flash U.S. services PMI increased to 50.5 from 46.8, an eight-month high and above the 47.0 consensus forecast from economists polled by The Wall Street Journal.
Activity among services providers grew marginally, with respondents reporting customer hesitancy due to inflation and interest-rate increases.
The U.S. manufacturing PMI also rose, to 47.8 from 46.9, but continued to suggest contraction. Economists expected the index to come in at 47.6.
Output at factories fell for a fourth consecutive month, and orders declined sharply. "Although the manufacturing survey data are showing signs of improvement, the factory sector remains in contraction and focused on inventory reduction," Mr. Williamson said.
Cost inflation eased in February, but the pace of increase in selling prices accelerated, according to the report.
"The survey data underscore how the upward driving force on inflation has now shifted to wages amid the tight labor market," Mr. Williamson said. "By potentially stoking concerns over a wage-price spiral, accelerating service sector price growth will add to calls for higher interest rates, which could in turn subdue the nascent expansion."
Write to Xavier Fontdegloria at xavier.fontdegloria@wsj.com
(END) Dow Jones Newswires
Markets…
In early trade interest rate bears took out last Thursday's high market rate of 4.190 with a 4.206 quote. The cycle high for market rates remains the 4.465 quote on October 21, 2022.
At 9:45 Market rates are backing off quickly, 4.167 at the moment. The Bloomberg Terminal trader types have their hands full now.