Who Wins Here ?
The battle between the FED and the markets on rates is front and center. My vote goes to the market.
Here is what Bloomberg is saying this morning.
An as-expected cooling in US inflation further fanned the flames of a fight between the market and the Federal Reserve.
Short-dated Treasury yields plunged Thursday in the wake of a 6.5% reading for year-over-year December consumer prices — down from a peak of 9.1% in June — with swaps markets now pricing in a peak Fed rate of 4.9%. That's out of step with the policy makers' projections of a destination above 5% — which was reiterated by St. Louis Fed president James Bullard in the aftermath of the data.
So who wins? In the eyes of DoubleLine Capital LP chief investment officer Jeffrey Gundlach, the obvious answer is the bond market.
"My 40 plus years of experience in finance strongly recommends that investors should look at what the market says over what the Fed says," Gundlach said on a webcast Tuesday. That builds on a tweet he sent last week: "There is no way the Fed is going to 5%. The Fed is not in control. The Bond Market is in control."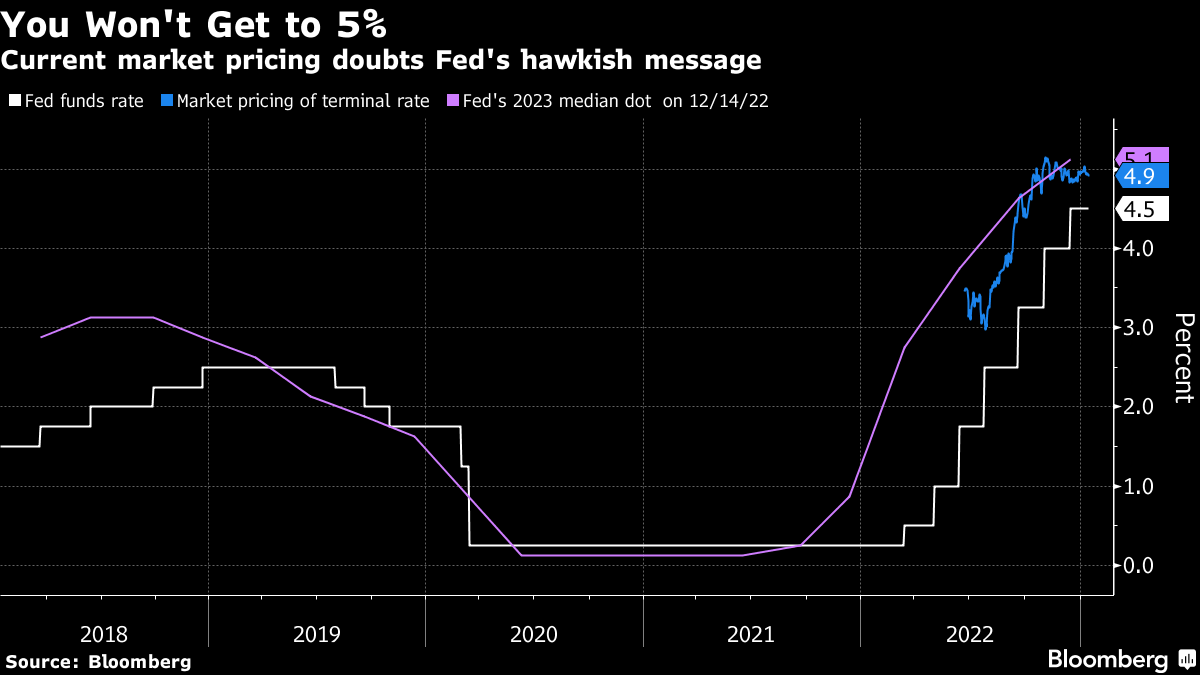 And if we're listening to the bond market, it's also worth noting that traders are pricing in about a half-point worth of rate cuts next year in addition to a lower ceiling. Again, that's at odds with the Fed's projections which indicate they plan to hold rates through the end of 2023 after reaching terminal.
Perhaps unsurprisingly, Minneapolis Fed president Neel Kashkari thinks you should take the central bank's side. In a New York Times profile, author Michael Steinberger asked Kashkari about the fact that markets are pricing in rate cuts:
"I've spent enough time around Wall Street to know that they are culturally, institutionally, optimistic," Kashkari replied. I said it seemed almost as if the markets were playing chicken with the Fed. Kashkari laughed. "They are going to lose the game of chicken, I can tell you that," he said. We'll find out soon enough who blinks first. — Katie Greifeld